NDPC QSLB CADORA PONY SERIES
QSLB SPECIFICS
• Rider may select any Bronze/Silver/Gold test to act as their NDPC class
• Class will count as part of the regular show and double as NDPC class entry
• Class is Test‐of‐choice, rider must indicate on entry form if a test is "NDPC"
• Ponies who do not have a pony card MUST be measured by the steward EACH SHOW
• Ribbons will be awarded to 6th place as well as High Point unweighted by QSLB. Show champion will be determined by NDPC using weighted scoring using the Degree of Difficulty chart, and ribbon will be mailed to the rider
• NDPC class will count toward a horse's maximum 4 tests per day
• NDPC competitors must hold all qualifications required to compete at chosen level (Bronze/Silver/Gold)
• You must participate in at least two out of the four shows to be eligible for NDPC QSLB Cadora Pony Series Awards.
• Two-day shows will offer one NDPC class that spans both days. A rider is eligible to ride a NDPC test on both days, but only the best score will be used to determine results for the class.
• Classes are part of the regular show and will count for QSLB year-end and be sent to EC/Cadora
Shows included in this series are:
Evergreen Farm || June 19 & 20 Doornekamp Farm || August 15 & 16
Gwinhurst || July 11 Doornekamp Farm || September 12
NDPC Series Awards:
Series Champion and Reserve Champion will be awarded by NDPC. To determine the results, the weighted scores from each show will be averaged. You must show in at least two Pony‐Only classes, across at least two shows.
Series Awards for NDPC Partner Series will be mailed after the conclusion of the final show.
NDPC Year‐End Awards:
All tests ridden in Pony‐Only classes will automatically be entered in NDPC Canadian Year‐End Awards, even if the rider is not a member of the NDPC. (NDPC Canada Members have all scores from any Equestrian Canada Bronze, Silver, and Gold shows entered into Year‐End Awards, not just Partner Show scores. Non‐ Partner Show scores must be submitted to the NDPC by competitors.)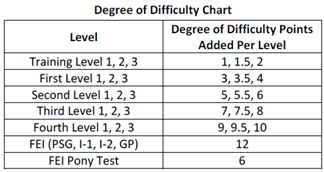 The National Dressage Pony Cup showcases the exceptional talent, training, and commitment of ponies, their owners, breeders, trainers, and riders in the art and sport of dressage. NDPC encourages competition at every level, for riders of any ability, of age, and ponies of any breed of mix of breeds to compete and enjoy their experience. The NDPC partners with Equestrian Canada Bronze, Silver, and Gold shows around Canada to offer our Partner Show Program. You do not need to be a member to compete in a Partner Show. All scores in 'pony only' classes will automatically be entered in our Year‐End Awards Program, where you will be competing with ponies across the country.
Learn more at www.DressagePonyCup.com